Frequently Asked Questions
Q1: Who is HoloZyme For?
A: HoloZyme is for anyone who wants the digestive and systemic healing of enzymes. It's for anyone who's digestion is too fast, to much gas, bloat, loose, or sour. It helps get all the precious nutrients from every food you eat.
It's for anyone who wants to systematically use enzymes to support immune function and healthy aging.
Anyone into anti-aging ideas and wanting to feel and look their best should consider HoloZyme as it has been shown to support protein, fat, and carbohydrate absorption in the body in healthy levels in 6 pilot studies.
It is especially helpful for anyone who has long standing digestive issues and or pain related complaints.
---
Q2: What makes HoloZyme different than other enzyme products I've tried?
A: It starts with the fact that HoloZyme is the most activated enzyme on the market. It was awarded a patent for its specific activation system. This ALONE make it totally different than all the other enzymes on the market.
We've tried all the other brands as well and we ended up licensing these patents in order to make the most activated enzyme on the market.
Why does activation matter?
Because each enzyme needs energy to "turn on" or "activate". This energy comes from what is called a mineral co-factor. See enzymes are deactivated until they are gifted energy to work. HoloZyme includes this energy right in the capsule versus other brands who rely on the body to do the work.
If the body lacks the co-factors to "turn-on" the enzymes it is likely to stay deactivated.
Also our Activ-Blend ™ base enzymes are dual strain and 4x concentrated and work anywhere in a pH of 1.7 to a pH of 11.0. This allows this to work anywhere in the body unlike traditional pancreatin and many other enzymes who only work in narrow pH ranges.
We include the highest ingredients in enzymes and therefore need less of them.
---
Q3 - What are the ingredients in HoloZyme ?
A: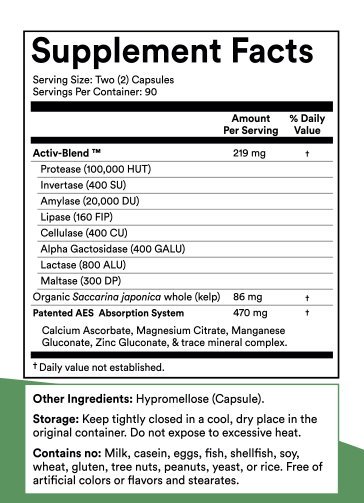 ---
Q4 - Is there Gluten, Dairy, Soy, Sugar, or GMO's in HCL Guard+?
A: No. HoloZyme does NOT contain any major allergens, zero sugar, and is GMO free.
---
Q5 - How long will today's special pricing be available?
A: We are unable to guarantee today's special offer beyond midnight today. Once word gets out about our Best Deal, there'll be a mad rush.
Supplies are limited and once it's gone, so is this special deal.
---
Q6 - When will my order arrive?
A: When you order you will instantly receive an order confirmation email. You can relax then because we are working hard to get your order out the door to you as quickly as possible!
We will ship your order directly to your home or office using a premium mail carrier and you will have it within 5 to 10 business days of placing your order.
Products are shipped from Texas, USA and we will send you a shipment notification email with tracking number as soon as your order ships so that you can track it right to your door.
---
Q7 - What's the refund policy?
A: Your order is backed by a 60-day money-back guarantees.
If you don't like HoloZyme for any reason, email, or call us and we'll start the refund process.
We'll send you an RMA and shipping label and soon as you send us the unopened bottles back we'll issue your money back minus shipping and handling fees.
---
Q8 - Is it safe to buy online?
A: Buying online is now one of the safest ways to shop! Special SSL Certificates authenticate our identity and encrypt the information of visitors who enter on our site.
This keeps thieves from "snooping" or "grabbing" any exchange between our Web page and another computer. When an SSL Certificate is installed, you can rest assured that the information you send is secured and can't be viewed by cyber crooks.
You can know this by looking in the upper part of the screen.
Depending on your device you'll see a padlock icon in the browser's status bar and the "HTTPS://" prefix in the URL.
These are the signs that a secure handshake is happening between your device and our website. When the handshake is happening as it is now… you are safe.
We use a third-party credit card processor that meets the strictest international standards for data security to manage our credit card payments, so no one ever has access to your credit card information.
We do NOT keep your credit card number on file.
At Healthy Gut Nutrition, we take this very seriously are always doing our best to make this the safest and most secure way for you to shop.
---
Q9 - What is the shelf-life of HoloZyme ?
A: Each bottle is good for 2 years from the date of manufacturing. An order placed today will be good for at least 18-20 months depending on that date.
---
Q10 - If I live in California, does this fall under Prop65?
A: For more information of California's Prop65 please click here.